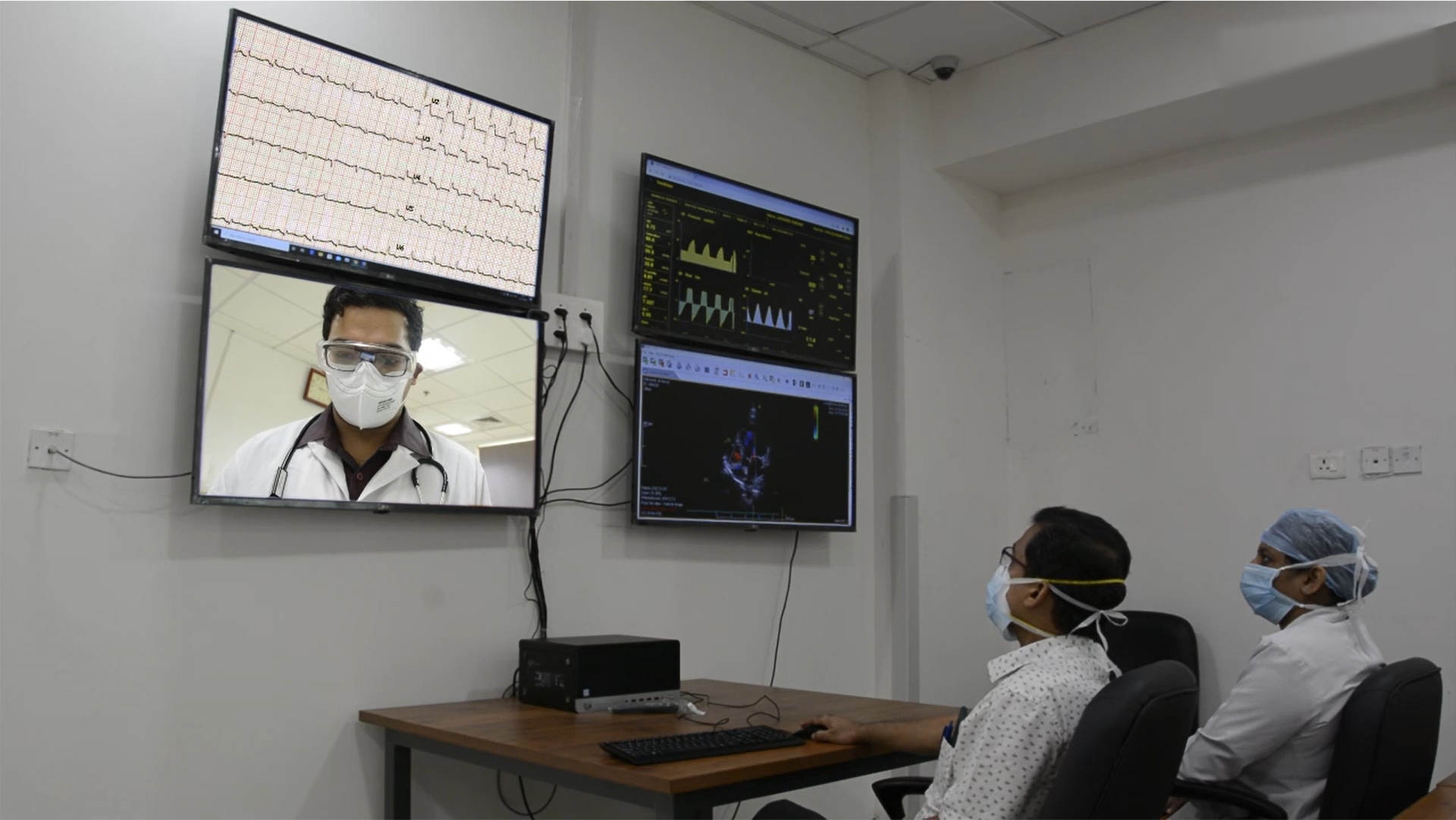 eICU
Revolutionizing
Critical Care
Enabling real time, remote monitoring in critical care settings, regardless of location
Health Pods
Explore more
The Need
The shortage of intensivists and the outspread of Pandemic has created demand for critical care
It significantly reduces ICU mortality through real time, remote consultation
Notable reduction in Patients transfers
India


uSA


Major Countries are adopting Tele-ICU as a solution to treat patients remotely.
Tele-ICU
In Greater Demand
As the demand for critical care & full time bedside care continues to grow, Tele-ICU makes remote care accessible
It enables Clinical Transformation by establishing communication between off-site clinicians and bedside staff to provide Real Time Patient Care.
Provides critical update to offsite team through teleconsultation on patient's instability or any abnormality in lab results for remediation and timely intervention.
Tele ICU - Outcomes
More Efficient
Throughput

Improved Clinical
Collaboration

Higher Contribution
Margin

Reduction in
Clinician Burnout
Tele-ICU Platforms
Revolutionizing Critical Care
Scalable, centralized and decentralized platforms that extend offsite, care resources to bedside team through video conferencing and real time data streaming, in multiple locations.
6 offsite Clinicians can connect to the bedside team through Conference call.
1 intensivist can cater to approx. 50 to 80 patients in multiple locations
System can manage multiple topographical dispersed ICU locations
A centralized command center that makes remote care accessible by optimizing bed utilization & reducing patient transfer
Tele ICU
Critical Care Models
Providing Quick, Easy, Preventive Health Screening
Medical Device Integration
Model Details
Facilitates direct interaction between offsite clinician & bed side staff to consult on patient care.
ICU VIEW
Centralized Care Model
Platform integrated with medical devices that makes viewing and capturing of medical data, vitals easy.
Tele - ICU Bedside – Tablet + PTZ camera
Designed to provide offsite team with complete access to patient & the bedside team.
The ICU Bed is equipped with a PTZ camera & a Patient Monitor that allows the offsite team to interact with the patients & view monitoring devices.
In case of loss of connectivity or screen display issues, camera has the capacity to zoom and record medical vitals.
Decentralized Care Model
Wheeled Robot integrated with Camera & Tablet, controlled through webcam & joystick.
Tele - ICU – Wheeled Robot
Integrated with a tablet and PTZ camera, it can freely move within the premise.
Easy to use, 65 inch tall wheeled Robot gives impressive 8 hours run time with a single charge
Its movements can be controlled through a webcam and a joystick over a broadband connection. A single charge gives impressive 8 hours run time.
Allows physician to interact with the patient and view other monitoring devices.
Facility for video conferencing
Connects 6 people through video conferencing
Offsite clinicians can chat with bedside team 24x7
Alerts & Notification for Bed side staff & Physicians
ICT Platform
Features
Offsite clinicians have seamless access to patient's data through web & mobile interface
Patients can easily connect with offsite clinicians through video calls via integrated tablet on the tablet.
24 x 7 Patient Surveillance through a single dashboard for clinicians & bedside staff
Ability to reduce on road mortality & mobility by prior exchange of patient's information during inter & intra hospital transfers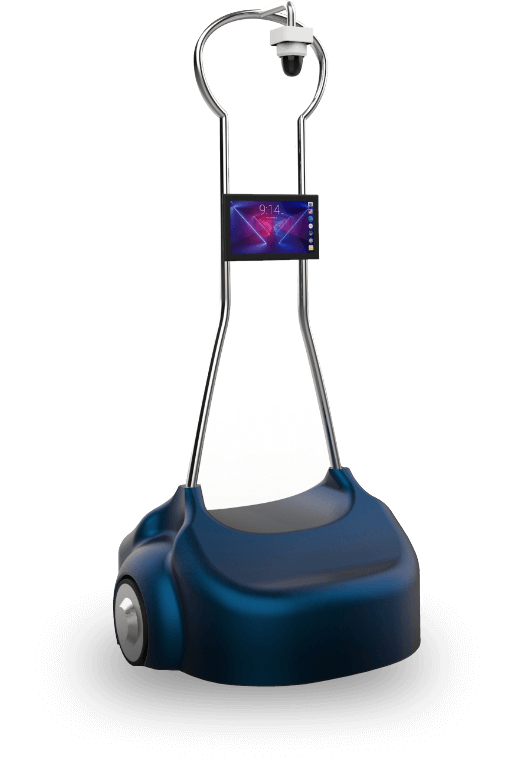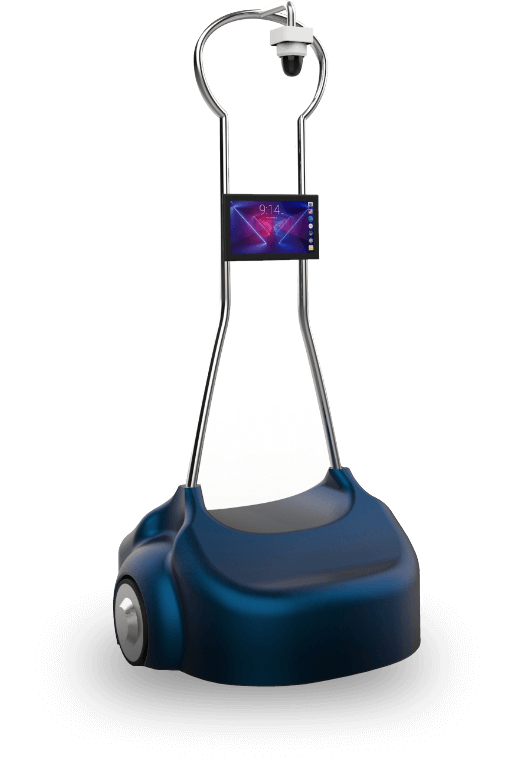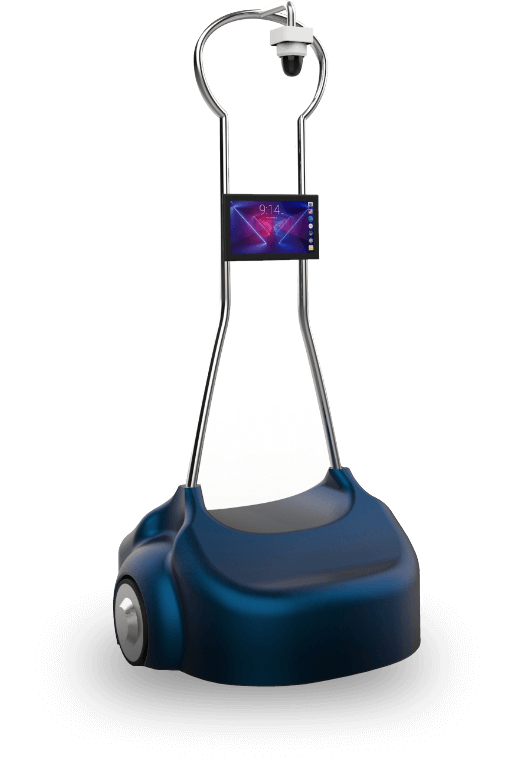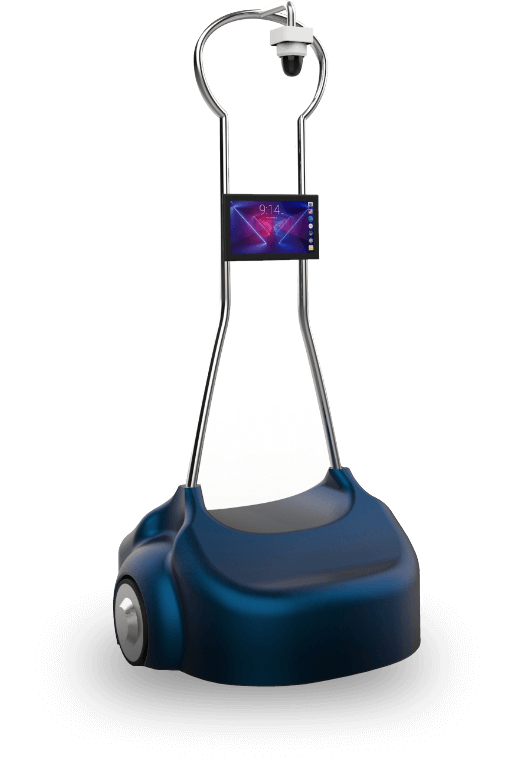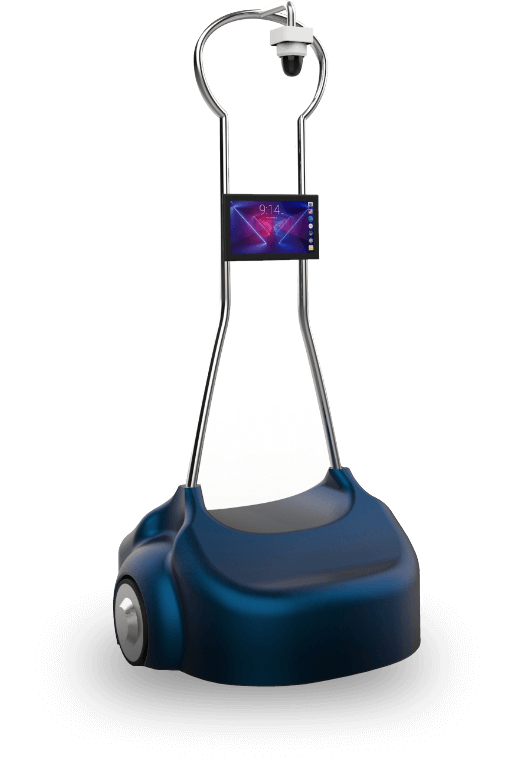 Tele-ICU Wheeled Robot
A futuristic, interactive ICU robot improving clinical outcomes at the remote ICU centers
Enabling offsite team to extend timely care to critically ill patients remotely
Makes monitoring quick and easy for COVID wards, especially during shortage of staff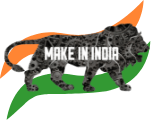 Robot Specifications
A futuristic, interactive system that enables face to face communication between a patient & an offsite physician, equipped with enhanced navigation & obstacle detection capabilities.
Allows offsite doctor to view complete details of patient's vital on monitor and listen to the smallest sound
Movements
Left, Right, Forward, Backwards
Speed
3 to 4 km/hr
Battery
Lasts for 8 hours with a
single charge